TOP 5 Netflix movies about hip hop culture
TOP 5 Netflix movies about hip hop culture
You probably know the streaming platform Netflix? The long winter evenings haven't even started yet and we're already thinking about how we're going to occupy them... In order to make them more rhythmic, what could be better than a good movie about hip hop culture? 
We've put together a little rundown of the 5 must-see films: 
All eyes on me (The life of Tupac Shakur)
Tupac was the leader of an art movement and the voice of the ghetto. He was one of the most controversial figures in the public eye and the son of a black panther. Love him or hate him, Tupac Shakur changed music and his message lives on years after his untimely death.
All Eyez On Me tells the story of Tupac's incredible life. From being a "ghetto kid" to selling seventy-five million records worldwide, his story is remarkable. Fortunately, the film All Eyez On Me will give you a good insight into his life. 
Hip-hop icons such as Dre Dre, Snoop Dogg, Puff and The Notorious B.I.G are all featured in the production. The film is set primarily in New York and Los Angeles (NY being his hometown and Los Angeles where he became a star). However, the story is told from the Clinton Correctional Facility. This is where Tupac was incarcerated after being accused of inappropriate touching.
 If you know anything about early 90s rap, you'll know that the relationship between B.I.G. and Tupac deteriorated as their fame grew. All Eyez On Me covers this topic as it affected more than just their friendship. This event brings out the more reckless side of Tupac as he and B.I.G. clash with their music.
2. 8 miles
Jimmy Smith Jr. a.k.a. B-Rabbit (Eminem) comes from a poor family in Michigan. He has a crappy job at the factory and should already be happy to have a job. As a bonus, he lives in a trailer on 8 Mile Road with his alcoholic mother who tells him about her sexual problems.
Jimmy secretly aspires to a career in music but is humiliated when he loses his temper at a battle at the Shelter.
His dreams seem to have been shelved. Everyone around him sinks. At the height of the storm, Jimmy puts his back into it. He clings to his work, like a good American soldier dear to Clint Eastwood.
He works hard for his sister Lily (Chloe Greenfield) for whom he is responsible. Without flinching. His efforts pay off. Because in this meritocratic America where the dream still exists, even if it is becoming increasingly lazy, you can reach the top when you start at the bottom. That's the promise, anyway. So Jimmy falls in love with Alex (Brittany Murphy). It's a start.
But the worst is never far away. Jimmy has to be careful and dodge bullets. His friend Future (Mekhi Phifer) offers him a final battle against the members of the Free World.
Jimmy hesitates. Alex goes to New York. No more hesitation. Jimmy is replaced at work.
 He passes the first two rounds with panache. In the final against Papa Doc (Anthony Mackie), Jimmy overpowers his opponent and wins the battle.
3. The Get down
The series is set in the 1970s in the Bronx, New York, and follows the rise of hip-hop and disco music through the eyes of a group of teenagers. Each episode begins with MC Books, a famous artist rapping his story to a large crowd at a concert in 1996. This short rap serves both as a recap of the previous episodes and as a set-up for the events of the next one. Each episode is also interspersed with real footage and news reports from the 1970s.

The first part begins in 1977 with Zeke (young MC Books), a young poet living with his Aunt Wanda following the death of his parents, meeting Shaolin Fantastic, an aspiring graffiti artist and DJ. The two men band together with Zeke's friends to form "The Get Down Brothers", whose dream is to become successful musical artists and take over the city. Zeke's long-time love Mylene dreams of becoming a disco singer and leaving the Bronx, but faces obstacles such as her religious father. At the same time, the series depicts the various gangs and gangsters in the neighbourhood, including Fat Annie and her son Cadillac, and observes the poverty and violence faced by the people of the Bronx.

The second part takes place in 1978 and sees the band members facing adulthood and their future in the music industry. Zeke is faced with an ultimatum: love or music. Although Mylene is his first love, music is also his. Mylene is moving up in the music industry and wants Zeke to be a part of it, but she doesn't think he's making the necessary effort. Shaolin and the gang hang out making music and money. Shaolin finds a car with a dead body in the boot. This shakes the boys up and makes them question their relationship with Shaolin. Shaolin Fantastic calms them down by explaining that everything will be fine. They calm down, but are still worried about Cadillac and his business with Shao. 
4. Get rich or die
Marcus (50 Cent) is a quiet young boy who lives with his mother, whom he adores despite her job as a drug dealer.
But when his mother is murdered, Marcus is forced to move in with his grandparents, a life that doesn't suit him very well.

Soon, Marcus gets into the drug trade himself, dropping out of high school to become one of the henchmen of Levar (Bill Duke) and Majestic (Adewale Akinnuoye-Agbaje), two local criminals.

Years later, when he is reunited with his childhood sweetheart (Joy Bryant) and thrown in jail, Marcus decides to leave the drug scene behind and become a famous rapper under the pseudonym Young Ceasar.
A life of crime Unfortunately for Marcus, Majestic has other plans for him: after a robbery, Marcus is shot by the criminal outside his grandparents' house.
Barely surviving, Marcus abandons this dangerous life altogether, and devotes himself entirely to his music.
Moments before his concert, however, as he dons a bulletproof vest, Majestic reappears and confesses to having shot the rapper's mother years earlier.

Furious, Marcus and Majestic fight, a duel that Marcus wins.
Relieved, and at peace with his demons, Marcus finally takes the stage, stripped of his bulletproof vest.
Behind him, in the wings, a bang tells him that Majestic is dead, and that Marcus is finally free of his tumultuous past.
5. Boys and the hood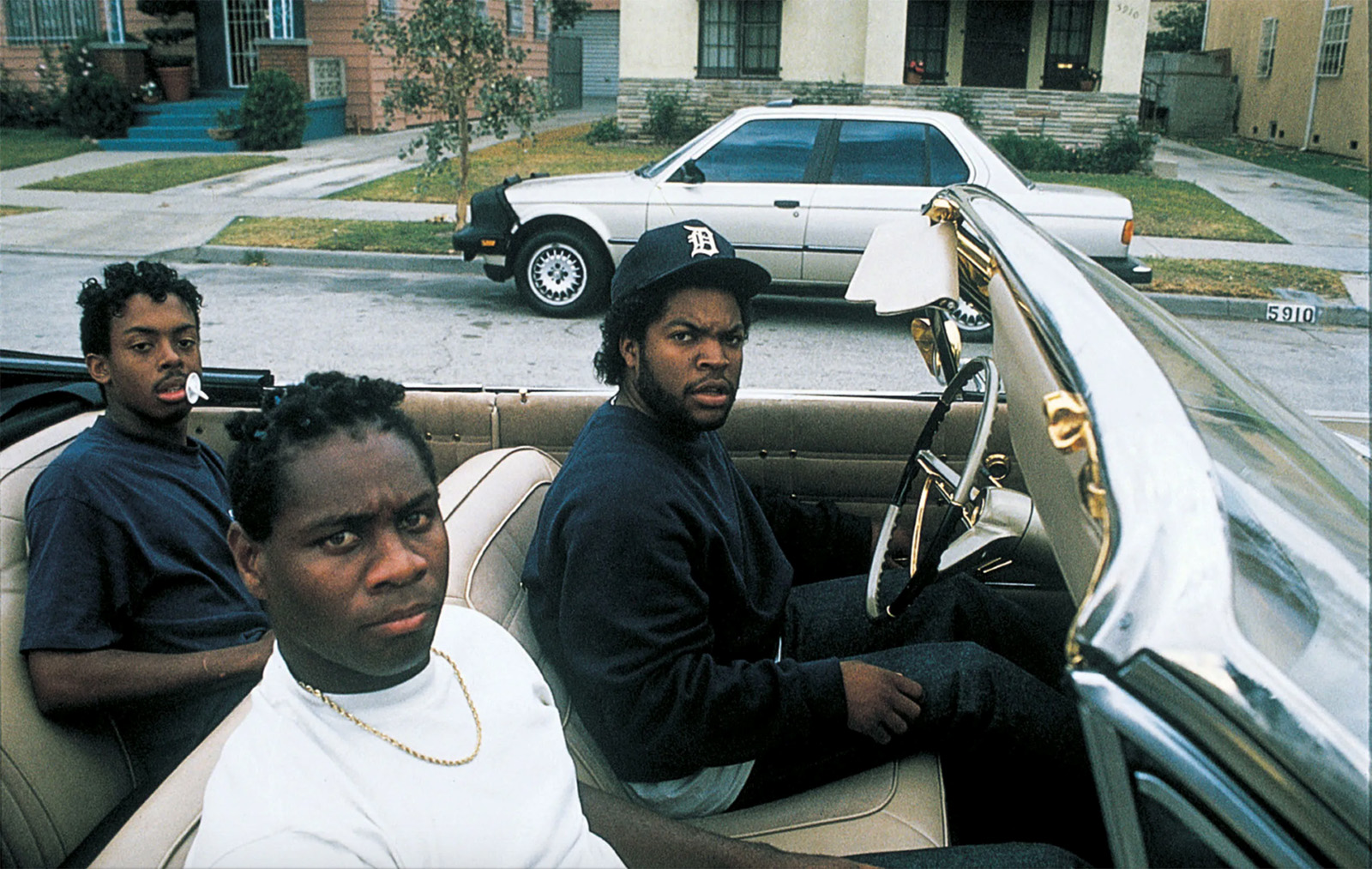 Los Angeles, 1984. Tre, a young man from South Central, wants to pursue higher education, despite his unfavourable social environment. As a child of divorced parents and brilliant at school, Tre is expelled for three days for a fight. His mother decides to send him to his father, Jason "Furious" Style, in South Central. There, he meets his friends Darin (nicknamed "Doughboy") and Ricky, two brothers who live across the street. In this very dark ghetto world, he continues to develop positively, thanks to his father's education, even though he is confronted with police racism, poverty, the proliferation of weapons, gang violence and drug trafficking. Darin was first arrested after stealing from a grocery shop.

In 1991, Darin is now in a gang and selling cocaine. Ricky just got a scholarship to the University of Southern California. Tre is trying to change Brandi's mind about having sex before marriage. One night, the three friends get into an altercation with members of the Crenshaw mob (a sub-group of the Bloods gang), which results in a gunfight, in which no one is hurt. However, Ricky is murdered the next day in a drive-by by three of the Crenshaw Mafia. Seeking to avenge him, Darin, Tre and two of their friends decide to go after them. However, Tre, finally convinced by his father Furious' arguments, gives up the search. Darin goes on, finds the trio who killed his brother and kills them.

In the epilogue, we learn that Darin attended his brother's funeral and that he was also murdered two weeks after these events. Tre and Brandi move to Atlanta together, where they are admitted to Morehouse College and Spelman College.
---